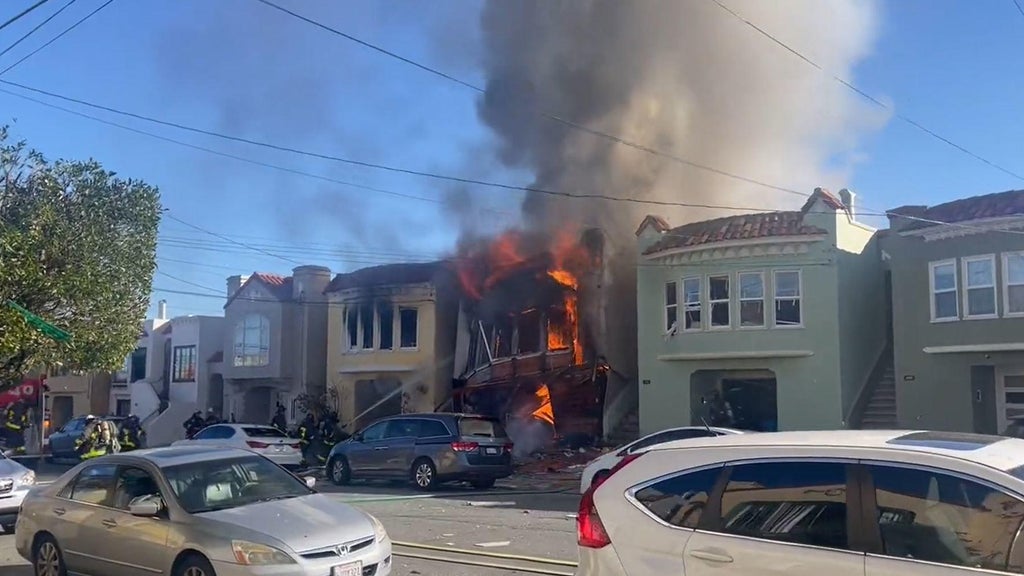 SAN FRANCISCO — A huge fire preceded by a large explosion destroyed a home in San Francisco's Sunset District Thursday morning, leaving two people including a firefighter injured and prompting the evacuation of surrounding homes.
The fire burned a house on the 1700 block of Noriega Street near 22nd Avenue and was initially reported at around 9:30 a.m. San Francisco Fire Captain Jonathan Baxter later told KPIX that fire dispatch received multiple calls at about 9:22 a.m. reporting an explosion at a home on the block.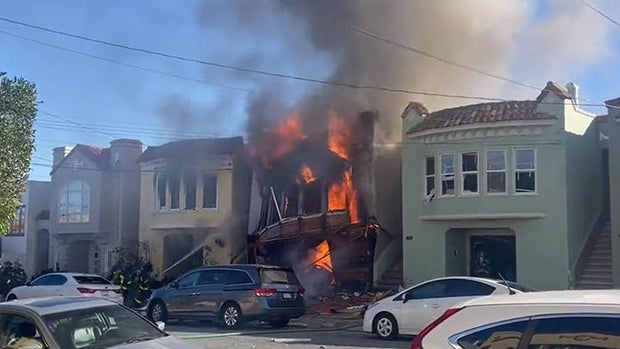 The San Francisco Fire Department said the fire was upgraded to three alarms and that two adjacent houses were also affected. A photo tweeted out by the SFFF Local 798 Union showed the residence fully engulfed in flames.
In a later photo tweeted out by the firefighters' union, the single-family home appeared completely destroyed with the roof and upper floor collapsed onto the lower garage area.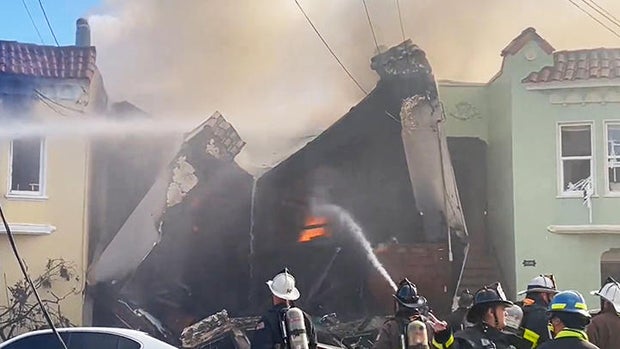 Baxter told KPIX that one person was found outside the home in serious condition after suffering burns and injuries. They were transported to a local hospital. He said windows in houses across the street had been shattered, "indicative of an explosion." A later update also confirmed that a firefighter suffered minor injuries during the incident but would be OK.
Baxter also said that there was one occupant of the building where the fire was centered who is unaccounted for so far.
Baxter said all homes on the 1700 block of 22nd Ave. were being evacuated, but there was no threat to other homes in the area. A later tweet by the SFFD indicated that the evacuation of homes was narrowed to 1730-1750 on 22nd Avenue with the rest of the 1700 block of 22nd Avenue being advised to shelter in place.
As of 12 p.m., the evacuation and advisory were lifted, Baxter said, but residents who are away from their homes on that block are asked to stay away for now.
KPIX reporter Jocelyn Moran was able to confirm that windows in houses and windshields of cars on the block were shattered by the reported explosion.
As of around 11:40 a.m., San Francisco Fire confirmed that the incident was contained, though crews remain on the scene as the investigation continues.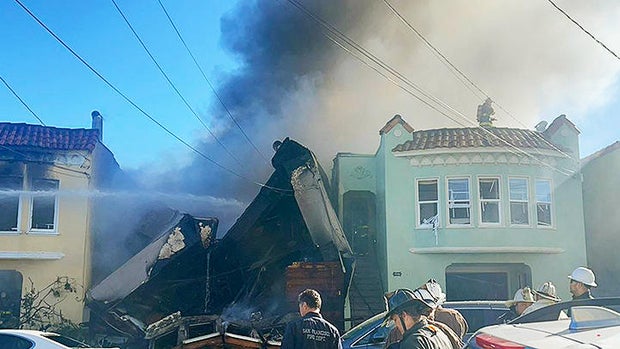 People living in the area reported hearing and feeling the explosion around the time the fire erupted.
Images from social media showed a large plume of smoke emanating from the fire. The fire department was urging people to avoid the area.
There was no immediate word on the cause of the fire or the reported explosion. The investigation by fire officials and PG&E technicians is ongoing.
Thanks for reading CBS NEWS.
Create your free account or log in
for more features.