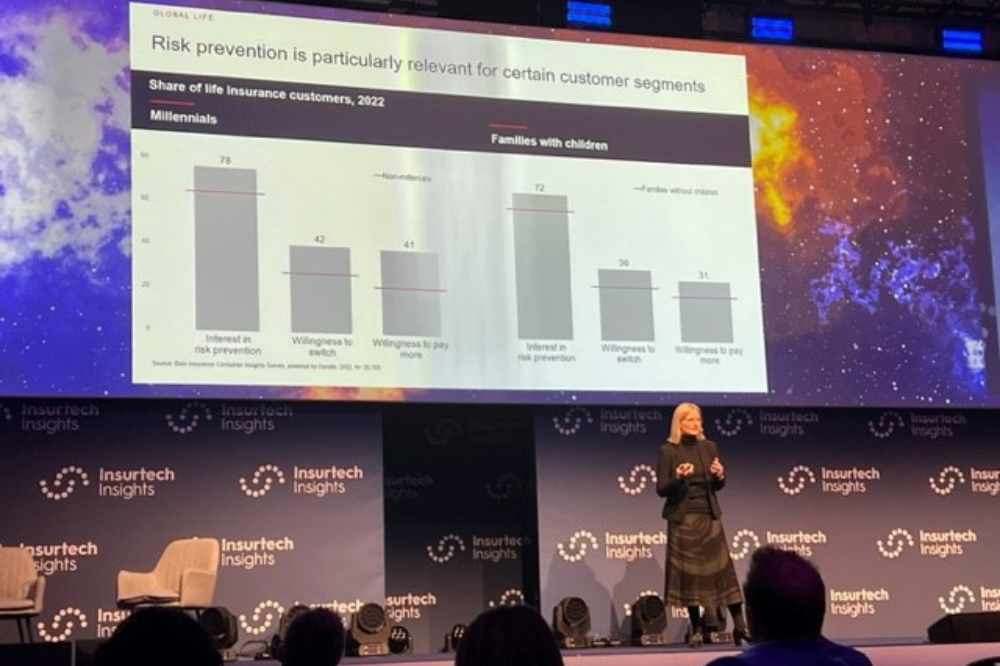 Consumers expect insurance companies to respond to the world's biggest challenges such as climate change, aging populations and gaps in healthcare. They also want to greatly reduce the risks in their lives, according to the Bain and Company survey.
A majority (80%) of consumers said they would like insurers to integrate environmental, social and governance (ESG) initiatives into their offering. More than half (59%) want insurers to reward them for living healthy.
Although respondents expressed an overwhelming preference for risk prevention services in the areas of auto, home, life and health insurance, few take advantage of the current offerings in the market.
Only 4.3% in the US reported using the services of their insurers, while figures for Singapore (4.1%), Switzerland (2.7%), Japan (2.5%) and the UK (2.1%) were dismal.
Bain and Company, a global management consulting firm, commissioned Dynata's survey, which surveyed 28,765 respondents in 14 countries.
"Consumers need more. The [traditional premise where] Insurance only provides capital to cover losses, satisfies no more," said Tanja Brettel (pictured above), practice executive vice president at Bain and Company, at the Insurtech Insights Europe conference in London earlier this month.
Turbulence and uncertainty are accelerating consumer shifts
According to Bain and Company's report, consumer interest in ESG has increased in recent years, in part due to intense turmoil and uncertainty.
"Extreme weather events, disease and the Covid-19 pandemic, aging populations and technological disruptions are all conspiring to radically change the risk landscape, both through more risks and through different types of risks," the report said.
The confluence of all these factors has created an identity crisis for insurance companies as they face increased demand for what Bain and Company calls the "functional elements" of their value proposition.
Risk reduction, relief and convenience, and claims settlement are just some of the core offerings that consumers expect from their insurers. But companies need to evolve quickly to provide better social impact, life-changing and emotional value to stay relevant.
"It's so hard to get the basics right. But consumers still want more," Brettel told the audience at Insurtech Insights Europe.
"They want to be rewarded, they want companies to act ethically, and they want their insurance company to invest in their well-being."
Why don't insurers' risk prevention services connect?
Risk mitigation and prevention are the new frontiers for insurers, according to the Bain and Company report. But if consumers want to proactively reduce their risks, why not use the services of their insurers?
That could be because many risk prevention offerings are focused on the insurance policy and not the customer, Brettel said.
A case study demonstrated the power of an insurance service that keeps customer needs in focus. Life and health insurer AIA's Vitality app received more than 300,000 registrations in its first year of launch. The app, aimed at young families in Thailand, offers wellness information, trackers for family events and vaccines, and online parenting forums.
"They started with the customer and didn't think about how to bring their products to the world. They picked a segment with unmet needs and tailored their offering to that," said Brettel.
From "push" to "pull" distribution model
As insurers redefine their role and value in the marketplace, agents and brokers have a key role to play.
According to Bain and Company's report, carriers need to shift their sales model from "push" (which focuses on acquisition) to "pull" (which uses data and analytics to meet customer needs and priorities).
This means brokers and agents will dramatically change the way they work, spending less time on low-value tasks and focusing on building relationships with their carrier partners.
"In many markets, traditional field service plays an incredibly important role, not only in driving adoption, but also in driving more sales and moving from online to offline," said Brettel.
Redefine the role of insurance
The shift to risk prevention and purpose-driven business will take time for most organizations. Brettel warned executives not to expect immediate profitability from this linchpin. However, she emphasized that the long-term result will be worth it.
"Don't expect it to be profitable in the first year. It takes patience to build this up. What's important is that you focus on defining your path to monetization," she said.
"This is about the customers. This is about redefining the value you deliver to your customers. Customer desirability should be the priority."
Do you agree with Bain and Company's findings on insurance customer expectations? Share your thoughts below.


Source link

2023-03-17 13:00:00

www.insurancebusinessmag.com